How to use google pay step by step 2021
How to use google pay step by step 2021.The UPI payments applications were used to remove digital payments in India a few years ago. Google Pay is one of Google's most popular applications that operates on a Unified Interface for Payments (UPI) .
The government also promotes digital transactions and prepayments for the next time after lock out. It is also the right time to do this. This is the whole manual for launching and using the app like a professional.
How to use google pay step by step 2021
What is UPI?
UPI stands for Unified Payment Interface. It's a computer with a single mobile app capable of running multiple bank accounts. It incorporates many financial features such as transactions, payments balance and much more. The UPI applications run 24 times a day and are billed immediately in real time.
NPCI has started the UPI pilot programme with 21 banks in India and more than 140 banks now sponsoring.
Pre-requisites to use Google Pay:
A bank account linked with mobile number
A valid debit card
Android/iOS smartphones (non-rooted)
How to Install and set up
Note: Give access to the necessary permissions when asked
Install Google Pay from Play Store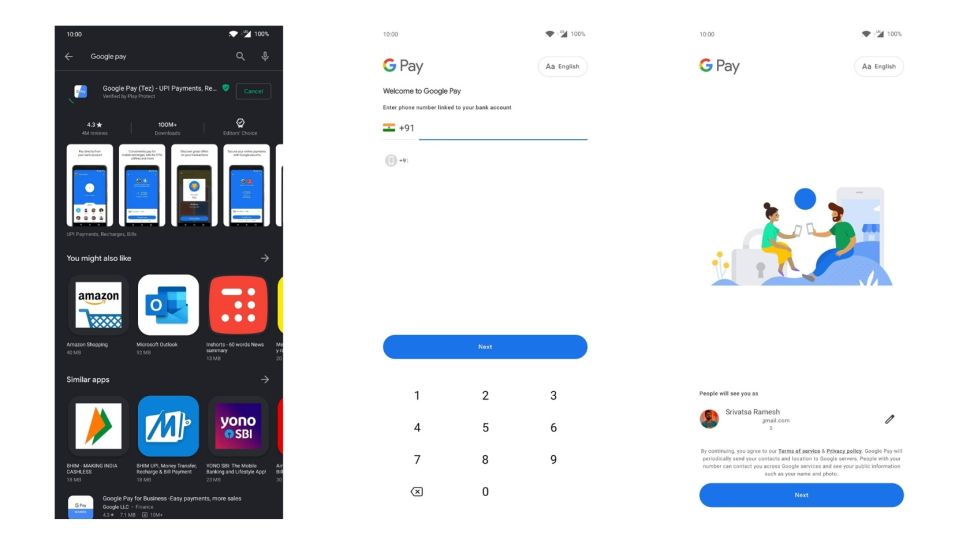 Once installed, open the app and enter your mobile number linked with your bank account
Pick your Google account, and hit the Next button
You will get the OTP and Google Pay will automatically verify it
Select the option to secure your account with a current phone screen lock or create a new 4-digit Google PIN
Once the above steps are completed, you'll be taken to the app's home screen
Adding bank account on Google Pay
In the home screen, tap on the profile icon on the top right corner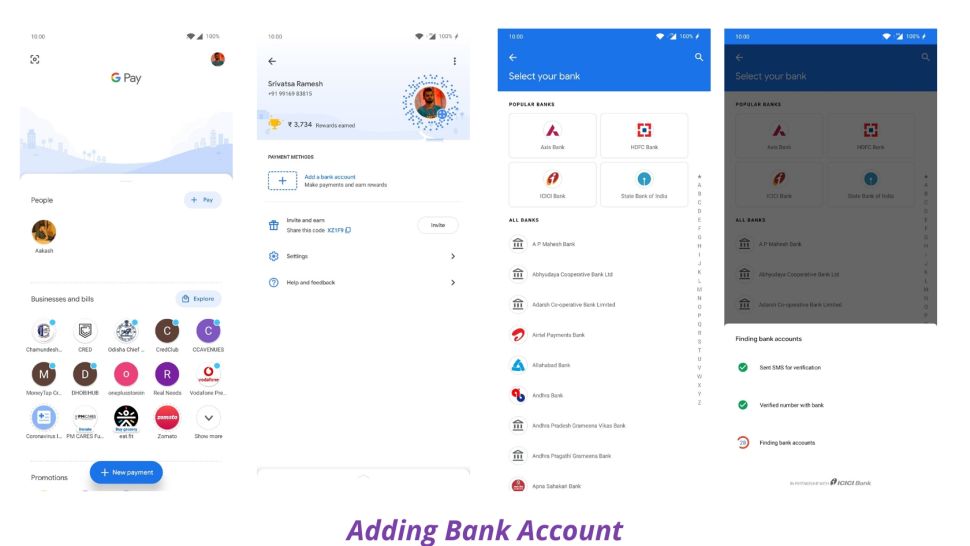 Under the payment methods, click on the Bank account
Click on Add Bank Account
Select your bank from the list
Allow your phone to send SMS
Your bank account will be displayed with the UPI ID. It is an automated process
Click the Activate account button below
You will be taken to a page where you will have to enter the last 6 digits of your debit/ATM card along with expiry date
If you want to change the language of the app later on, you can click on the home screen profile symbol and select the settings. Tap on your favourite language and pick it.
How to add multiple bank accounts and check balance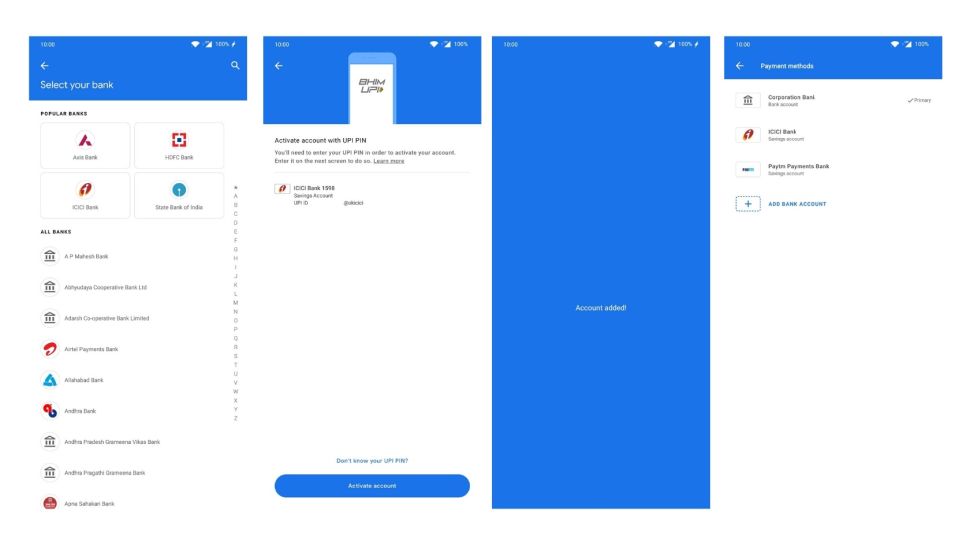 More than one bank account can also be linked to Google Pay. Only take the same steps to bind separate accounts as before. Tap the image of the home screen profile and click on the account of the current bank. Steps 2 to 10 now have to be replicated.
It is very easy to check the balance of the deposit. Click the "check account balance" button on the home page, and then on the bank account you want to check the balance. Tap the Scale View, enter the UPI code and the balance will be reached.
You may also define the primary bank account you would like to send/receive money from. You should pick "Main account" as the check balance, and the default bank account will be created. It is the same as Check balance.
User Interface
On the home screen, you can do something. At the top right hand corner, your account info are in your profile icons. In your Google Pay account you will have account information such as your telephone, mobile number, UPI identification, bank details and more.
Since your setup is over, you don't have to use this screen much. You can see an icon to pay for the scanner in the left of your home screen (more on that ahead).
Here all big transfers occur in the second half of the home screen. You have a name and profile icon with 'Friends' tag and a 'Pay' bouton at the right of your recently transacted user.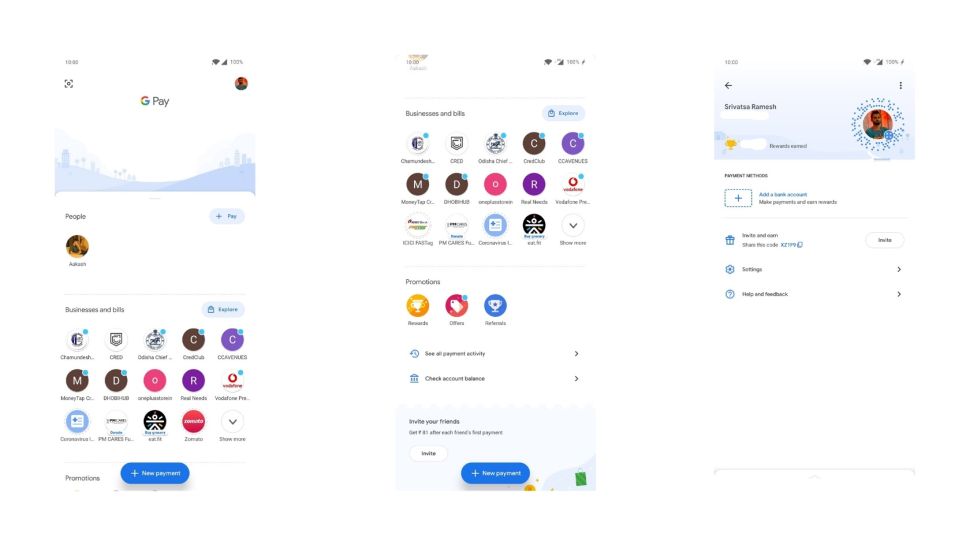 Finally, you have "See all spending activities and check balance" pages to check your payment background. On the home screen, there is also a "New Payment" option.
How to pay using Google Pay
With Google Pay app, you can pay in many ways. Let's take a look at all the methods here: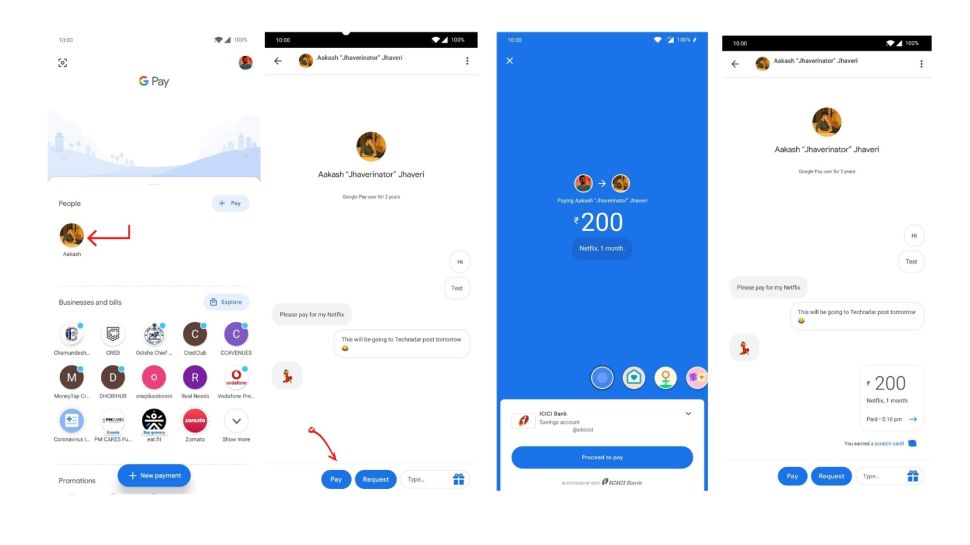 Pay with mobile number/name
For any person across the country, you can pay with just his/her mobile number. If the contact is saved in your phone, it's pretty straight forward.
Click on the "New Payment" button on the home screen
Select the contact from the list or enter the phone number
You'll be taken to a new screen, click on "Pay" and enter the amount. Adding a small note below the amount would be handy.
Tap on "Proceed" to pay
Enter UPI PIN and money will be transferred instantly
Pay with QR code/Spot Code
Pay for QR Code/Spot Code
If you're going to a shop or other company, you can pay with a QR code scanner. Scan QR code, enter the number, and enter a PIN on the device's top-left side. If anyone gives you his/her Quad-Recorder code from WhatsApp or other applications, you can access the image from the top-right corner of the scanner tab using the "Upload from the Gallery" menu icon (three points).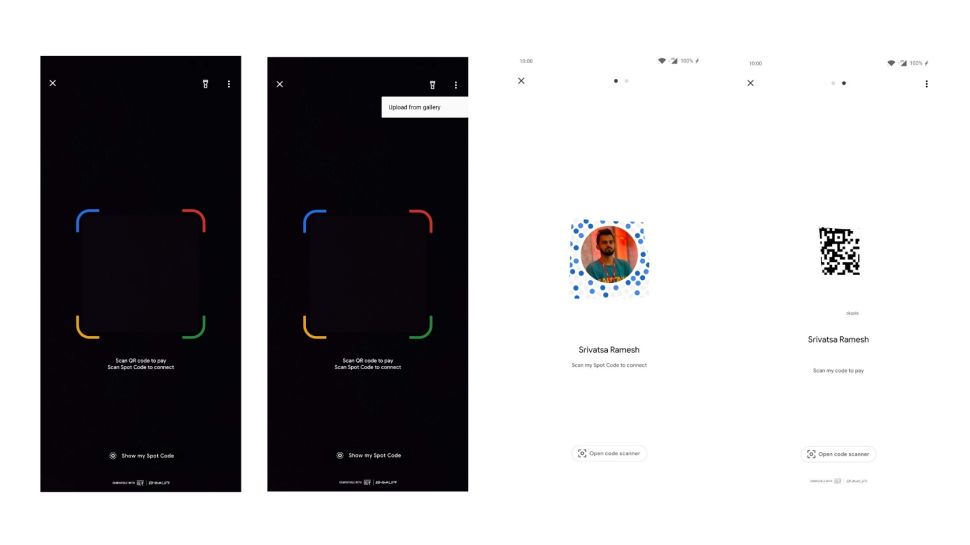 A new spot code was also introduced by Google recently. Spot code is a Google pay graphic code in India. The code is Google Pay. The QR code works like that. You will post and search spot code. The spot codes enable traders to pay for their experience with the brand.
Open Google Pay
Tap on the scanner icon
Now, click on "Show my Spot Code"
People can scan the code with Google Pay scanner
Pay with Bank account info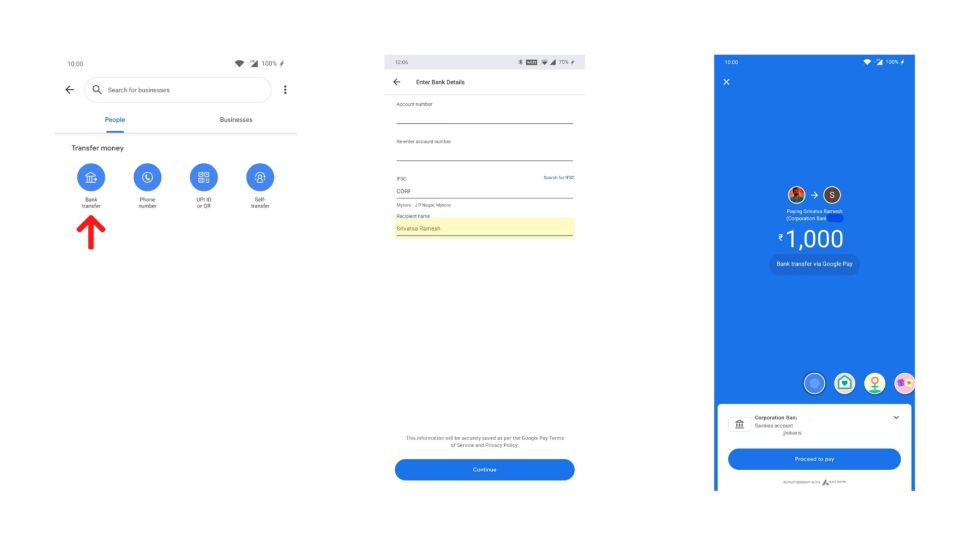 Click on "New payment" in the home screen
Tap on Bank transfer
Fill Account number, re-enter, IFSC code, and recipient name
Click continue
Enter the amount and note
Enter your UPI PIN
Self Transfer
You should take these procedures if you have many bank accounts and want money to be transferred between them.
Tap on "New payment"
Select Self-transfer
Select from and to account, click next
Enter amount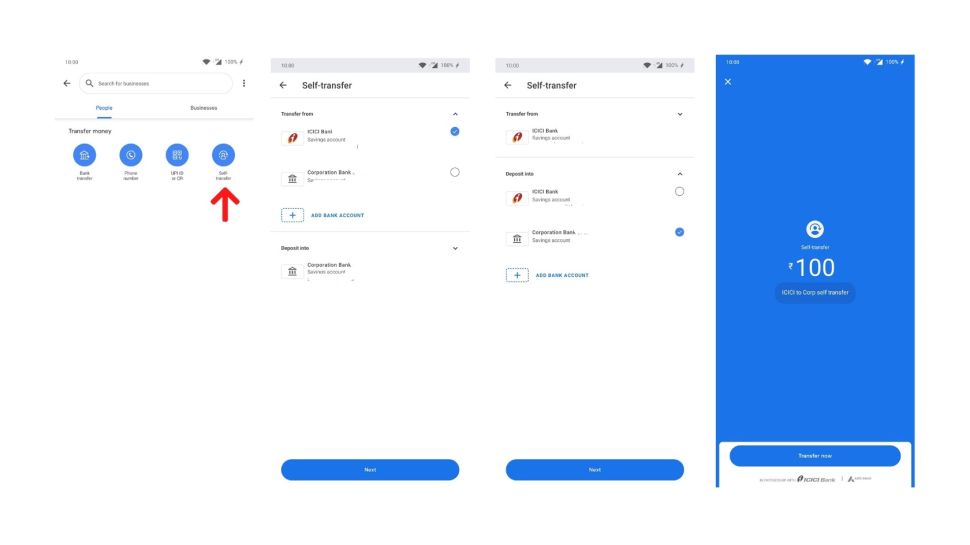 How to receive payments on Google Pay
Request  
The best way to get money from someone is by asking for it. You will ask for money from anyone in the app directly, as the name implies.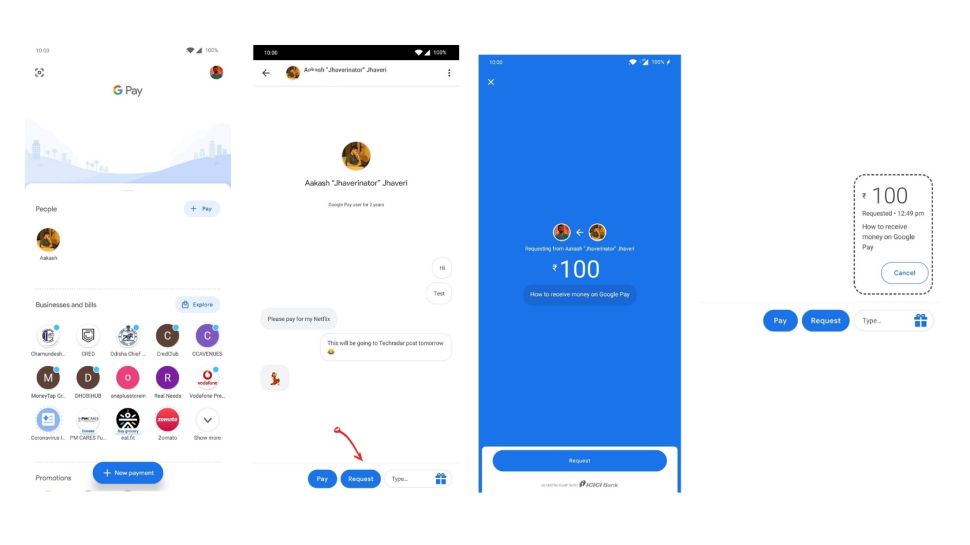 Click in the user chat head on the home screen or select a user by tapping on New payment
Now, tap on Request
Enter amount and note
Receive with UPI ID
Click on the profile icon
Under your name and mobile number, you'll see your UPI ID
Send that to the person from whom you want to receive the payment
Ask them to enter the same UPI ID, verify your name and then complete the payment
Receive with QR code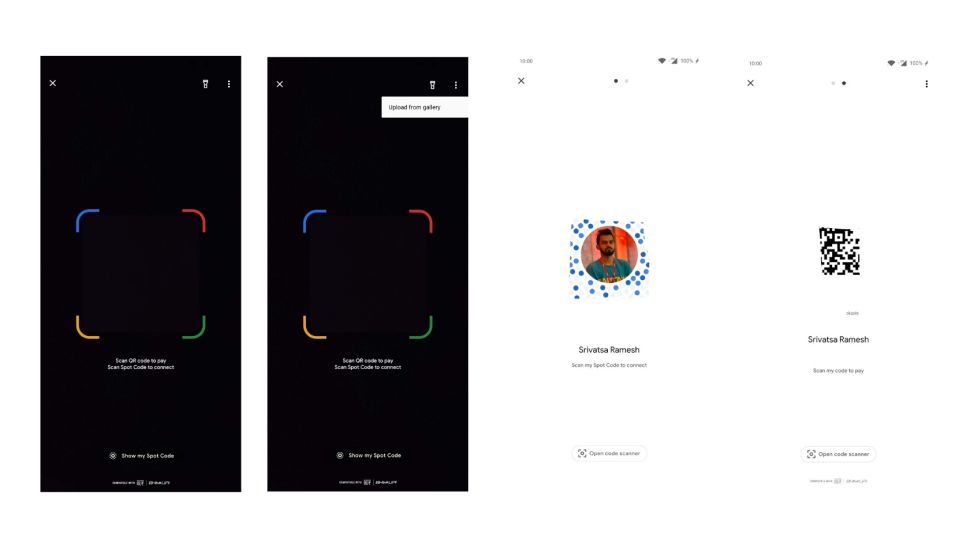 Click on the scanner icon
Select "Show my spot code"
Ask the person to scan and complete the payment
Recharge and Bill payments
Tap the new payment and business button. Here you can see the Recharge and Bill payment option.
Choose the operator and schedule to recharge mobile phones, just press and input your telephone number. Click 'Pay Form' to join the UPI PIN.
Bill billing sections provide payment options for HRD charges, petrol, postpaid telephony, cables, LPG reservation, fixed lines, electricity, and many more. The ID/Customer ID generated on your bank account must be entered each month for the generation of energy and water supplies.
The condition, payment dates and balance shall be communicated per month if you enter the bill and set up your account. With a click on the "Bill Payment" button, payments may be made.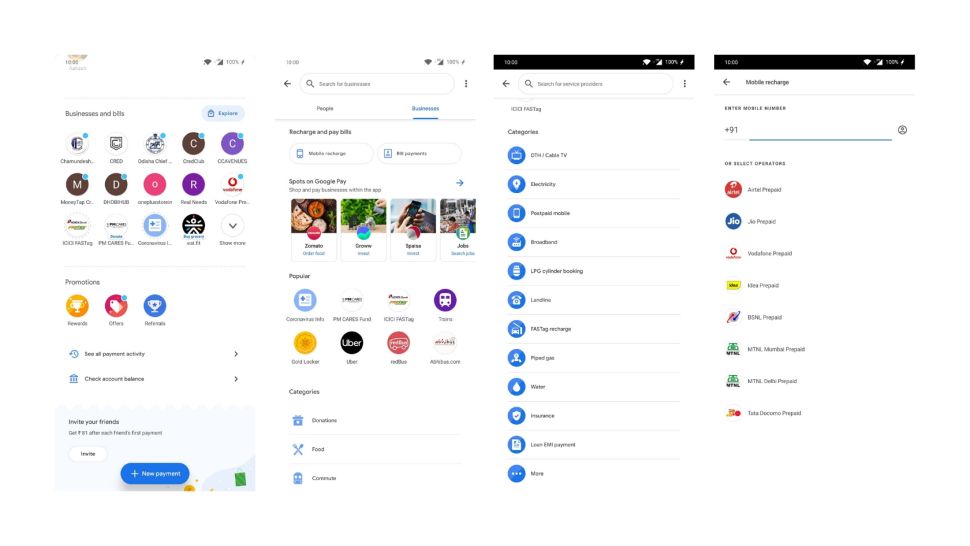 Change UPI PIN
Click on the profile icon
Tap Payment methods
Select a bank account
Click on the top-right menu option(three dots)
Select change PIN
Enter the current PIN
Set new PIN, re-enter PIN to confirm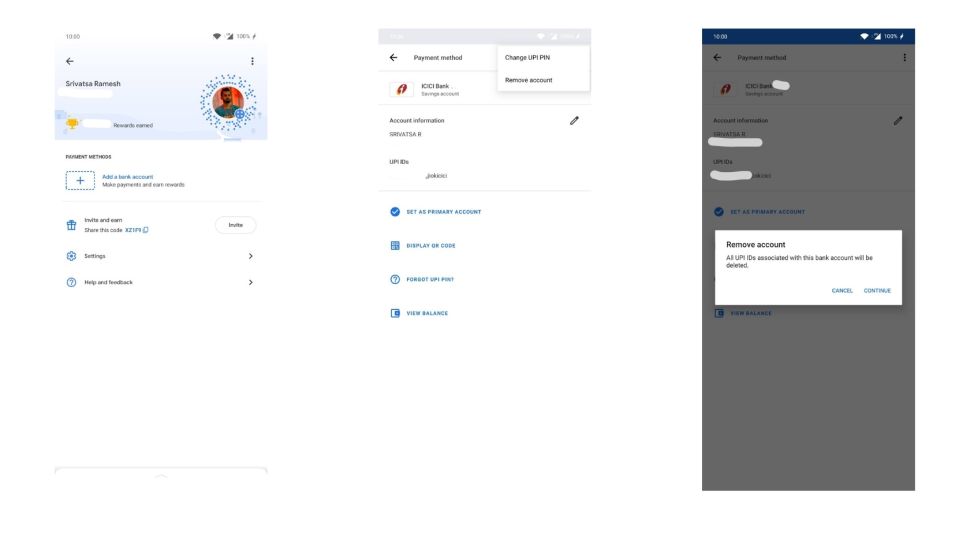 Remove bank account from Google Pay
Click on the profile icon
Tap Payment methods
Select a bank account
Click on the top-right menu option(three dots)
Select Remove account
Hit continue
Your account is removed from the app.
Close Account scroll down and tap -> Close. Click In. Click On. The UPI accounts will log you out.
You will adjust the way you are paying money if you opt to use UPI apps like Google Pay. It offers several functions for you. If we lock up, it will be helpful to search for payment if we have to keep distance from society.
UPI PIN guarantees payments too.