How to Store Fruits Latest new update in Blox Fruits. The new update to Blox Fruits includes a lot of new contents, including a new island to explore. You might wonder where to find the cafe if you haven't had the chance to properly explore everything in the region. Or, in particular, you probably question how fruits are to be stored in blox fruits. Fortunately, you can use a Treasure Storage container to accomplish so.
How to Store Fruits in Blox Fruits
Follow the following procedures to store your fruit in Blox fruit:
Travel to Turtle Island in Third Sea.
Locate and go inside The Cafe.
Find and open the Treasure Inventory.
Click your Fruit to move it to storage.
Firstly, if you don't already have it, you must complete the stages to reach the Third Sea. Go to the island of Turtle and look for the large building. It is essentially the new Cafe, and there are two warehouse boxes and a few NPC Blox Fruit dealers available.
Search the storage boxes on the ground to the left of the stairs when you discover The Cafe on Turtle Island. Open the stock and click on the fruit to transfer it to your stored inventory section. As you will see in the disclaimer at the base of the stored fruit (the maximum of one Fruit) when it is unsealed.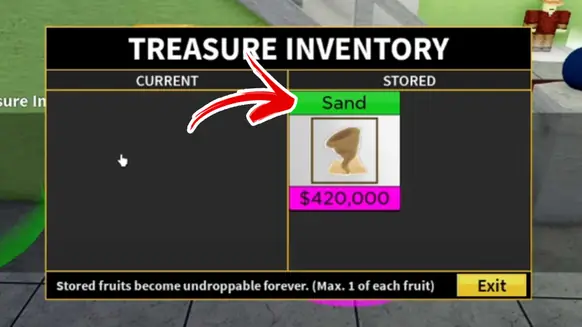 For different fruits or game passes, you can swap your stored fruits. Remember that only one fruit kind is available, however infinite game passes can be stored. By buying it with Robux or dealing on it with other players, you can expand the capacity with the +1 Treasure Cap.
How to Store Fruits Latest new update in Blox Fruits