Anime Fighters Simulator. You will gather and train the strongest combatants in the universe in the Roblox Elevate your characters and put together your strongest team. Travel and discover whole new worlds, and be the first to find unknown combatants. But even the biggest fighters were able to use some assistance. Here is a list of simulator codes of Anime Fighters to assist you in your trip.
Anime Fighters Simulator Codes
The Anime Fighters Simulator codes are currently working:
Gold500k: Super Luck Boost (New)
CrimesIsland: Luck Boosts (New)
SorryForShutdown: 15 Minute Golden Luck Boost
SCity: 15 Minute Luck and Yen Boosts
Pog400k: 15 Minute Yen and Damage Boosts
200milcrazy: 15 Minute Golden Luck Boost
Insane200k: 30 Minute Luck and Yen Boost
CurseHigh: 15 Minute Luck and Damage Boosts
Nice300k: Free Boosts
Thanks150k: Yen and Luck Boost
NewSulley750k: Luck Boost (must be in this group)
Poggers100Mil: Yen and Luck Boost
Sub2Numerous: 10 minutes of XP Boost
Sub2foxpanda: Yen Boost
Sub2codenex: 10 minutes of Luck Boost
Sub2Veyar: 10 minutes of Luck Boost
Yeet250k: Yen Boost
cyclxnee: Luck Boost
At the last inspection, the above codes were verified to function. These codes are still valid, we regularly verify. Once we have released the new code, we will also update the list. Please visit this page for the newest updates every day.
ALSO READ:Roblox Zo Latest codes And get Fantastic free Skins and skills
Expired Codes
TicketCode: Free Permanent Raid Ticket
CraftBug: 5 Free Tickets
EmptyWorld: 15 minutes of Luck Boost
100kRecord: Damage, Yen and Luck Boost
UpdateDelay: 20 Minute Yen Boost
VirtualCastle: Luck Boost
Nice200k: Luck Boost
Almost100k: Luck and Yen Boosts
ChimeraIsland: Luck Boost
Sulley500k: Yen Boost
50MilThanks: Luck and Yen Boosts
Epic150k: Boosts
60kCCU: Luck Boost
GhoulCity: Luck Boost
Pog125k: 15 Minute Luck Boost
SlayerCorps: free Damage and Yen Boost
Magic100k: 30 Minutes Yen Boost
Locomotive654: 10 Minute Luck Boost
ILikeTrains: 30 Minute Luck Boost
AttackOfGiants: 15 Minute Luck Boost
Sulley100k: Luck Boost (Must be joined to Sulley Group)
RealDaireb: 15 Minute Yen Boost
BronzePiece_: 15 Minute XP Boost
HeroAcademy: 30 Minute Yen Boost
SuperLikes: 30 Minute Yen Boost
EpicCode: 30 Minute Yen Boost
MegaLikes: 30 Minute Yen Boost
ManyLikes: 30 Minute Yen Boost
Super75k: 15 Minute Luck Boost
Awesome50k: 5 Minute Yen Boost
Lucky30k: 5 Minute Luck Boost
Sulley: 30 Minute Yen Boost
How to Redeem in Anime Fighters Simulator
In Anime Fighters simulator to settle codes:
Open Anime Fighters Simulator
Click on the Twitter icon on the middle right of the screen
Enter in one of the codes above in the box that pops up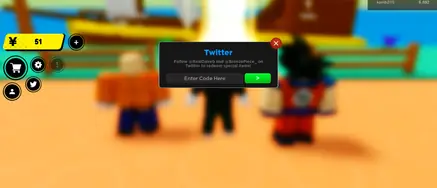 You will get a verification that your reward is activated after you enter the code and press the green button. The majority of the codes are time-based for Anime Fighter Simulator. If you receive a time-based benefit from the code, the countdown begins instantly, do not waste it! Begin to grind your characters immediately!
Codes For Anime Fighting Simulator